Sitecountry Review: Here I am going to write my Honest Review On Sitecountry. I started using Sitecountry Hosting on 3rd-May-2021 it's about 10 months ago.
After Using Sitecountry, I am writing this Review with Live Proof, please read it carefully to understand it well.
Here is a most commonly asked Question… Which Plan I am Using on Sitecountry Hosting?
I have purchased 3 Hosting packages on Sitecountry, Also I have Added the Proof in the below Image.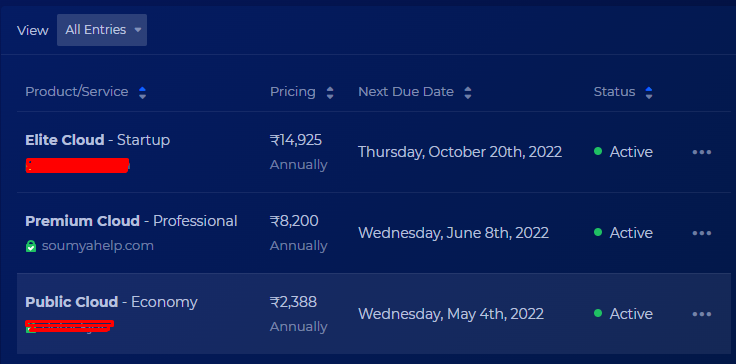 Also, I have purchased 4 Domains, now it's time to write a review about the service, in the below paragraph I am going to add all Sitecountry Reviews.
Sitecountry Reviews With Live Proof
When I am started using Sitecountry Hosting, then also, tested on different factors to ensure its quality.
Now I am going to mention what results I found after testing Sitecountry on different factors. There are some Factors, on which I have tested.
Speed
Server Response time
UpTime
Data Centers
Support
Refund Policy
Pricing
Let's explore all the above points one by one that is better for understanding.
1# Speed
When we talk about the Speed of Sitecountry Hosting, direct I have added the proof. As Soumyahelp.com is also, hosted on Sitecountry.
Now We check the Speed of Soumyahelp.com on different Speed Checkers like,
Google PageSpeed Insight
Pingdom
GTmetrix
Google PageSpeed Insights result of Soumyahelp
First, I test for Home then I test for post pages, So, look at the below image,
Soumyahelp[Homepage] Speed at Mobile
Soumyahelp[Homepage] Speed at Desktop
This is for the homepage, and my homepage is a little slow because I am using Thrive Architect, Also, the homepage is not ranked on google.
We have to increase our Posts page Speed so, now I am going to test one Post Speed and also, you can check practically.
Soumyahelp[Posts] Speed at Mobile
Soumyahelp[Posts] Speed at Desktop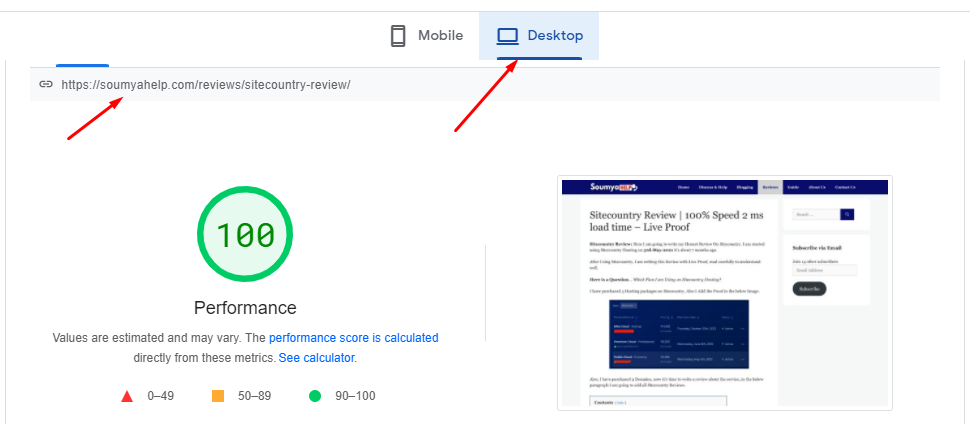 As you can see from the above results which are based on Google Pagespeed insights, now the time is for Pingdom Result.
Pingdom result of Soumyahelp
Now I am going to test only the Homepage on Pingdom and the result is in the below image.
Soumyahelp Speed At Pingdom [Asia Server Location]
You have already seen what is the load time just 2 sec. also, my post pages are faster than the homepage. Just remember my speed is better in India[Asia] location, if you test it from another location then may my website take 1 sec more.
GTMetrix Test Result for Souyahelp
GTmetrix is one of the best tools where you can test any website speed, also I have tested my website here, and the result is the below section.

As you can see the above result Grade is "A" with just "65ms" TBT and CLS is "0" with "1.1s" LCP which is very good speed just check it in India Location.
Sitecountry Review, This is the Live Proof of My Website Speed on Sitecountry Hosting.
Google Search Console – Page Experience report
After using Sitecountry Hosting now I found great results and it's showing on my Search Console Report on Page Experience
As you can see Now Google found my URL like Good URLs, this is much better for Organic Ranking.
2# Server Response Time
Website Speed is Completely Depends on your Server Response Time and what is the result I get from Sitecountry.
When we want to check any Server Response time then I Use bitcatcha.com it gives the actual result of any Sever.
Here, I am Testing my website Soumyahelp.com, the result is in the below image,
Here you can the overall Server Response Time, now you can see Location wise the Server Response Time of Sitecountry Hosting.
Server Response Time in Different Location
| Location | Server Response Time |
| --- | --- |
| US(W) | 10 Milli Second |
| US(E) | 1 Milli Second |
| London | 3 Milli Second |
| Singapore | 2 Milli Second |
| Sao Paulo | 11 Milli Second |
| Mumbai | 1 Milli Second |
| Sydney | 2 Milli Second |
| Japan | 3 Milli Second |
| Canada | 1 Milli Second |
| Germany | 1 Milli Second |
Also, I am using the Uptime Robot Application, which shows the actual server response time of a Sever.
As you can see in the above Image here the Average Server Response Time is 2.122 ms and the Company claim he provides 2 ms to 10 ms this is a good sign really, the Sitecountry server is very fast.
3# Uptime Proof
As you can see I have purchased the premium cloud plan for Soumyahelp.com in June but I transfer my site after 3 months.
In August I have completely transferred my Website[Soumyahelp.com] to Sitecountry Hosting and the proof of Uptime in the below image.
Here you can see the stats of Uptime Robot my Website continue running for the last 3 months, and Uptime is 100% with 0% Downtime.
Uptime also depends on how you configure your website if you configure your site properly the 100% you get results.
After Using Sitecountry Hosting for 10 months, here is the Sitecountry Hosting review for Uptime, on Basis of all Website uptime that I found.
| Months – Years | Uptime % |
| --- | --- |
| May 2021 | 100% |
| June 2021 | 100% |
| July 2021 | 100% |
| August 2021 | 99.9% |
| September 2021 | 99.8% |
| October 2021 | 100% |
| November 2021 | 100% |
| December 2021 | 100% |
| January 2022 | Continued… |
Also, I regularly update these stats, Because I want to give a clear vision to my followers why I recommended Sitecountry for Blogging.
4# Data Centers
There are many Hosting companies in the market, the maximum companies have only a single location that reduces your website speed.
But in Sitecountry Truly provide 3 Major data centers with multiple Sub-Data Centers and Major Data Centers are …
And this is a good point on the Sitecountry Hosting package, now we are going to the next point.
5# Supports
Sitecountry provides 24×7 supports in different languages in multiple ways.
| Support Type | Available Timing | Language |
| --- | --- | --- |
| Email | 24 hours | English, Hindi |
| Ticket | 24 hours | English, Hindi |
| Live Chat | 24 hours | English, Hindi |
6# Refund Policy
Sitecoutry Review: Refund Policy is very important of any Service. Here Sitecountry Refund Policy is 30 days.
30 Days refund policy for Public Cloud, Premium Cloud & Elite Cloud Hosting Packages. [Not Applicable on VIP Cloud & Reseller Cloud]
Also, you can read the Refund Policy on Sitecountry Official Website, they are truly refunding money when anyone wants to refund.
Here, I try it "First I purchase a hosting package with another person details and after some days ask to refund my money, Sitecountry asked me to solve my problem, also, they solve all problems, but as you know, I play trick so, still, I want to refund my money and Sitecountry gently give the complete refund to my account."
7# Pricing
When we talk about pricing then I said: "In my 5 years blogging career I have used many hosting companies but Sitecountry is the best company which provides Next Level Cloud Hosting in Budget Price."
Sitecountry has a minimum cloud hosting plan that starts at only Rs.600 per year which is the best option for poor bloggers, they can easily join WordPress.
Sitecountry Review Summary – My Experience.
| | |
| --- | --- |
| Speed | 90-100% |
| Server Response Time | 2-10 ms |
| Uptime | 100% |
| Data Centers | 3 Main, Multiple SDC |
| Supports | 24 hours |
| Refund policy | 30 Days |
Best Hosting Plans for WordPress in Sitecountry – My Recommendation
As per my experience currently, I am using sitecountry, also, I am using 3 hosting packages, but when we talk about Best Hosting Plans for WordPress in Sitecountry.
So, My Recommendation is "Premium cloud"

In Premium Cloud you can choose the best plan as your requirement after clicking on Premium Cloud,
The best plan is Turbo Plan with 6GB RAM frequency which can handle Unlimited Traffic with 30k real-time users.
Here you can buy these plans at a huge discount of a Flat 80% off on each plan
Also, here you get a Domain for Free for LifeTime.
Another gift worth 320 Dollars with this any purchase, watch the below video and all Special discounts,
Lifetime Free Domain [.com, .in, .net, .org, etc.]
blogging product worth 320 Dollars [Special gift]
Get Flat 80% Discounts
Sitecountry Review; here I have mentioned a completely honest review, on Sitecountry, as per my experience there is no issue to use Sitecountry.
Q#1 Can Sitecountry give 24×7 supports?
Yes, Sitecountry provides a 24×7 hours support system.
Q#2 Can Sitecountry Provide Support in the Hindi language?
Yes, here sitecountry provide supports in multiple languages like English u0026amp; Hindi.
Q#3 Can we get Support on Malware activities on Our Website?
Yes, Sitecountry, helps you if you have any malware on your website then the Sitecountry official team remove them for you.
Q#4 Can Sitecountry provide daily backup?
Yes, Sitecountry has a daily backup system. Your website got backup daily by Sitecountry.
May You Like:
Conclusion
Sitecountry review: Here I have added my all personal experience on Sitecountry Hosting company, if you have doubts then ask me in the comment section.
After Reading Sitecountry Review I think your doubts are cleared properly, I just recommend this company because really Sitecoury provide good Hosting Service.
Also, if you are using Sitecountry Hosting and getting good results then also, comment below, and Add Ratings in this post.
Share to Help