Google AdSense primary Earning Source for a Beginner Blogger, that why Bloggers are trying for Fast AdSense Approval just in 24 hours.
Dear Bloggers if you want to monetize your blog with AdSense then you have ready your blog according to AdSense Policy.
Now Before Saying anything look at the below image I got Adsense Approval Recently. and with all Steps, I mentioned points I am used to getting approval.
Also, I got AdSense Approval in just 2 Articles within 24 hours, the full proof is added below. But if you are a beginner and want quick AdSense Approval then must have to follow some recommended points.
Let's start the guide on how you can approve and what are the important steps to get quick approval.
How to Get AdSense Approval in 24 hours
To monetize your blog quickly you to follow guidelines, now we are going to discuss some guide important guidelines for AdSense Approval.
I have listed all Guidelines that can help you to get quick approval after the list, I am explaining all requirements in detail.
Basic Policy of Google AdSense
Age of Your Domain
Theme & Template Error
Customization of your Blog or Website
Social Branding of your Blog or Website
Important pages for your Blog
No. Of Articles or Blogposts
Low-Value content Error
Plagiarised Content Error
Copyright issue
Spammy links & Dead links Error
Code Mission Error
Site Down or Unavailable Error
These are the major reason why you can get approval quickly, to get Approval you have to solve these common errors.
Let's start with the details explanation for the above-listed errors, after solving these errors you can easily get approval.
1. Basic Policy to Get AdSense Approval
Adsense Policies are the main cause for disapproval of any blog, but these policies are very important to keep maintain a trusted advertising platform.
If you want to get AdSense Approval then you have to Follow the AdSense Guidelines and Policies. so, check the policy lists.
Illegal content
Intellectual property abuse
Endangered or threatened species
Dangerous or derogatory content
Enabling dishonest behavior
Misrepresentative content
Malicious or unwanted software
Sexually explicit content
Mail order brides
Adult themes in family content
Child sexual abuse and exploitation
These are the content Policy for AdSense Approval, also, if you want to know more about these above policies then read below I put the link –> https://support.google.com/adsense/answer/9335564
2. Age of Your Domain
This is very important to check your website / Blog or Domain Age before applying for Google AdSense and an old Domain or Old Website Gets Quick AdSense Approval.
If the Recommendation Age of your Domain and Website is greater than 15 days to 1 Month then you get quick AdSense Approval. [Recommended 30 days]
And if you Applying After One Month then make sure you are publishing the post on your site on daily basis then you get Approval.
3. Theme & Template Error
If you need quick AdSense Approval then use AdSense Friendly themes or Templates to get quick approval.
Also, I listed some AdSense Friendly Templates or Themes for Blogger and WordPress in the Below Section.
Best AdSense Friendly Template For Bloggers
Best AdSense Friendly Themes For WordPress
After downloading these themes you can easily use them for your blog,
4. Customization of your Blog or Website
Customization is a key factor in audience retention, beginners make their website after watching someone's video, and they use the same CSS, and codes provided in the video, that's why many blogs & websites are looks similar.
you have to create a unique design & with some recommended points listed in the below section.
Create Logo & Favicon
Add Your Categories to Primary Menu.
Add Important pages in the footer Menu.
Add Social Profiles on the footer widgets.
Never left any invalid URL (Ex- If your site has a Facebook following button make sure you have put the Facebook page link there. )
Check your Complete Website or Blog can it is Navigating properly.
If you find all the above points are ok on your website or blog then go ahead to check another point.
Check the Mobile Friendly issue of your Website
Mobile-Friendly is a major factor to get Google AdSense Approval to make sure you check it before applying to Google Adsense.
If you don't know how you can check the Mobile Friendliness of your website then you have to follow a path only.
if you find your website or blog is mobile friendly then very good and if get any issue like the below image then you have to cure the issue before Applying to Google Adsense.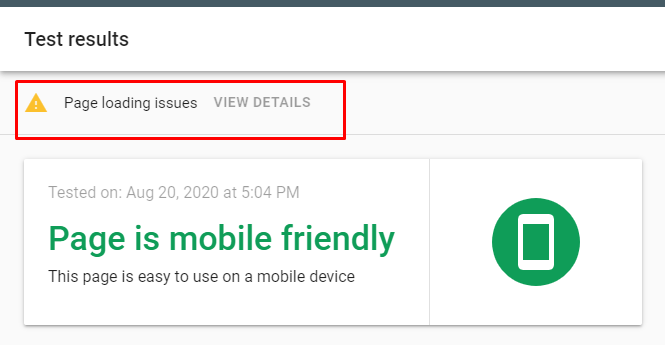 If you find any page loading issues then friends, click on that and check what are the issues. Also if found some issues like the below Image.
If you get these types of issues then it is not doing any problem for Adsense Approval. But if you find any other issue then you must solve it before applying to Google AdSense.
Friends if you have found any other issues and you do not solve these then comment below I Must help you.
5. Social Branding of your Blog or Website
To make a professional website you have to focus on your Social Branding, also, this helps you to increase your blog authority. Google AdSense gives quick Approval on Authority Based Blog or Website.
If you want quick Adsense Approval then you must have to create Social Media pages according to your domain on important social media platforms. Ex.
Facebook
Twitter
LinkedIn
Tumbler
Pinterest
Reddit
Telegram
YouTube
After creating your social profiles you have to share your content on all platforms in different formats.
Now you have to add your social profiles on your sidebar or in footer widgets, Make Sure that your all Social Page links are added properly and working properly.
6. Important pages for your Blog
Make sure your Blog and Website have all Important Pages like Privacy Policy, Disclaimer, Terms, and Conditions, Contact Us, and About Us.
If your blog doesn't have these important pages then AdSense will reject your application so, before applying to Google AdSense create your important Pages.
In the below table I have listed the links that you can easily generate your Privacy Policy, Disclaimer, and Terms and Conditions pages.
If you don't have an idea how you create Contact Us and About pages then comment to me below I definitely mention that point in the next update.
7. No. Of Articles or Blogposts
If you are Applying on Google AdSense you must have to Write a minimum 30 No. of posts that help you get Approval.
Make sure you write 30 to 35 posts before applying Google AdSense and After Applying to Google AdSense you have to write continuous posts for 15 days minimum.
If you have already written more than 30 posts then you have qualified in the second point now you have to check the third point mentioned below.
Write Each Blog Post above 1000 words if you want to get quick AdSense Approval. Honestly, 1000 words don't matter but it is quite good if covers all topics in detail.
8. Low-Value content Error
Beginner bloggers have little knowledge of content writing, and when they write almost 30 posts still can't get approval easily because of low-quality content.
Most of the time AdSense gives a "Low-Value content" error after reviewing the website, so you have to improve your content quality.
Beginners think that we have written our posts ourselves still why Low-value content errors on our website, now follow some rules, to write unique content.
Pick Unique Topic.
Latest Application Guide.
Upcoming year topics, Like 2023, 2044 [Ex- Best video editing app in 2023]
Are You Write SEO Friendly articles & Blogposts?
Tell First thing why Google AdSense Approved any site, their Business is Show Advertisement, and this is the major Income Source of Google Company.
Which Blogs Rank Quickly the SEO Friendly Blogs if the Blog Ranks higher and generates money then Google Also, generates money.
So, Google Also looks at which blog has a bright future so, if write SEO Friendly, blog posts 100% chance you can get AdSense Approval within 24 hours.
Also, Follow a video that I am given below to write high-quality user-friendly content on WordPress.
I am sure after watching this video your content writing skill definitely move forward, let's move another important point.
9. Plagiarised Content Error
Sometimes we write content ourselves still our content matches with other websites' content, this is why we must have to check for plagiarism.
This is very important to check can your blog post shows copied content. because AdSense never gives approval to those who steal others content.
if you don't know how can you check your copy (plagiarism) Score below I put a link so you can easily check Plagiarism for free.
Free Plagiarism Checker Tool – https://smallseotools.com/plagiarism-checker/
Check your complete website then make sure your blog post is 100% unique.
10. Copyright issue
Before Applying for AdSense Make Sure your website or blog uses all Copyright Free Images or Own created images.
Some trademark companies are not allowed to use their media, on our blog so, it's recommended to use our own images on our content.
Don't use Copyright Images on your blog posts it drops your ranking as well as Copy Images increase your Spam Score.
if you want to create your own image then you can use the free image creator tool Canva, its free version has a lot of features to create premium images.
If you want to get AdSense Approval in 24 hours then you have to create unique and attractive Images by yourself.
Now let's move to the final point of this post.
11. Spammy links & Dead links Error
Dear Friends, you must have to check your Spam Score and Spam backlinks for your Site. Did you know how you can check the Spam score of a Website?
You Can use Moz for Checking the Spam score of a website. So, First, check the Spam score of your website then Check your Backlinks Domains Spam Score.
If you find any Spam Backlinks then quickly remove that Backlink. Can how can you find all backlinks, go know all the backlink details just go to Google Search Console.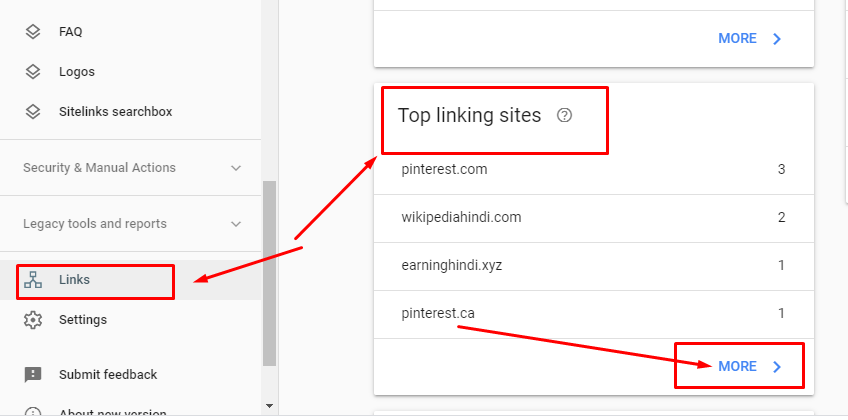 First, open Google Search Console, and Then you get the Link Option As indicated in the Above Image Click on more > then you can get all backlinks of your site.
Then check the Spam score of all Backlinks also, if you find the spam score of any backlink then immediately disavow the backlink.
Make sure to check your Backlinks in Google Search Console not use other Backlink Checker Tools.
Dead Links are also important to fix soon from your site, now let's move to another important point.
12. Code Missing Error
Sometimes we have added AdSense Auto Ads code on our Website, but still, we face Code Missing error.
Sometimes we update our Theme & Change our theme then we face this issue, but sometimes Themes & Templates are not supported for AdSense, and also we get the same issue.
Then you have to change your theme as I have mentioned AdSense Friendly theme above in this post.
Keep in Mind if you update your theme or change your theme then add your AdSense Code again to your website.
13. Site Down or Unavailable Error
Beginner bloggers don't want to spend money so they pick very cheap & Low-quality Hosting. In this case, Bloggers getting this error.
To fix this issue you must have to migrate to another good Hosting Also, I am using a Budget Hosting that gives me the best performance.
As I mentioned Budget Hosting means you can easily buy Hosting to fix Site Down or Unavailable Error
May You Like: Personal Recommendation Best Budget Hosting in 2022
How I Got AdSense Approval In just 2 Articles
I don't want to write anything because I have already created a video on this. So, I am going to add the video below you can watch it now.
Now all points I revealed all points that I worked on to get AdSense Approval, I surely mention that I work on before applying to Google AdSense in the last two years I got 34+ AdSense Approval by Following these Points.
Let's discuss some FAQs…
Q1 – How to get google AdSense approval in 1 minute?
There is no chance you to get google AdSense approval in 1 minute.
Q2 – Can I get AdSense Approval in 24 Hours?
Yes, this is possible you can easily get AdSense Approval in 24 Hours.
Q3 – is Google AdSense an Approved Hindi blog?
Yes, Google AdSense has Approved Hindi blogs.
Q4 – Can I get AdSense Approval without blogPost?
Yes, You can get AdSense Approval Without a single blog post just you need a lot of traffic on your website.
Q5 – Can I get Approval without Traffic or Visitor on my Blog?
Yes, you can get approval if you don't have organic traffic on your website. If your website has some no. of Traffic then it is very good to get approval. Mainly Traffic is not necessary for Approval but the content is very important to get Quick AdSense Approval.
Q6 – How to get Adsense approval in 15 days?
If you want to get AdSense Approval in 15 days then you must have 30 high-quality posts on your blog and create a good and unique design, then you can get approval easily [Note: if you get a low-value content issue then reapply again and again also, update your content.]
Note: If you want to get a quick reply from Google AdSense, then must Apply on USA Official Hours.
Disclaimer: This is not mentioned by Google or any High Authority Website, But it is my Personal Experience on Google AdSense Approval, When I am Applying for AdSense in local time AdSense takes more time for a reply But When I am applying in USA Official Hours then I got a quick reply.
Conclusion:
Finally, I put all details that can you help to get AdSense Approval within 24 hours. If you think your blog qualified on these points, then you can Apply for AdSense now.
If you have any doubt then you can comment in the below section, also. if you think the post is helpful then share it with your friends.
Also, check some related Content for a great experience.
|| Thanks for Visit ||
Share to Help